Minor Character's In the mare-do-well stories.
Secret Service

Edit
Secret Service is
MidnightStar
's butler. A former member of the royal guard, marcus is very skilled in combat and detective work. Often helps out Mare-Do-Well.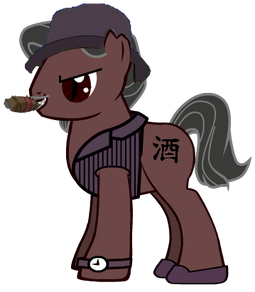 Alcapony is a short squat pony who is in charge of the Capony Mafia Family. His CutieMark is the Kanji for "Alchahol". He was the one who orchastrated the Bit Heist.
Alcapony is based off of the real life gangster named Alphnoese "Al" Capone.
Secret Service is based on Alfred Pennyworth from Batman:Earth one, aswell as Watari from Deathnote, Walter from Hellsing Ultimate, and Sebastion from Black Butler.
Secret Service's image was not made by me. I found it on google images. Credit to original artist.
Ad blocker interference detected!
Wikia is a free-to-use site that makes money from advertising. We have a modified experience for viewers using ad blockers

Wikia is not accessible if you've made further modifications. Remove the custom ad blocker rule(s) and the page will load as expected.