NOTE: Please don't curse or show innapropriate material on this wiki.
POST NOTE: Any innapropriate material I find or that is reported to me will result in the person in question being banned for 10 plus years. Any people banned by another admin for a lesser time will have their ban extended for 10 plus years. Seriously. Im sick of it. ~ Fersala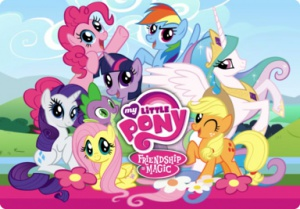 Welcome to Equestria!
This My Little Pony: Friendship is Magic Fanon Wiki, the only place on the web to create your own little ponies!
Like My Little Pony? JOIN US! This wiki fits all your pony needs: fanfictions, characters, and just about everything else you can think of! We're currently expanding in number but we can always have more friends!

Currently editing 1,867 articles. Feel free to add by clicking create below. Just be sure to follow the rules!
You can also go to My Little Pony Fan Labor Wiki.
Latest activity
Edit
Ad blocker interference detected!
Wikia is a free-to-use site that makes money from advertising. We have a modified experience for viewers using ad blockers

Wikia is not accessible if you've made further modifications. Remove the custom ad blocker rule(s) and the page will load as expected.