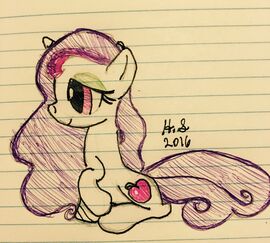 WIP
Plumsweet is a unicorn with a green thumb.
Appearance
Edit
As a filly, she has a purple and raspberry mane.
As a mare, Plumsweet has an overly long lavender mane with pink highlights. She has not grown much and remains quite short. 
Plumsweet has a very strong memory, so she forgets little to none of her past. Her parents try to console her about the loss of her only sibling and best friend, Mahogany.
As a mare, Plumsweet gets back in touch with her sister, and is delighted to know that she has chosen her own special talent, which really represents her, instead of conforming to the family botany business.
Personality
Edit
Plumsweet was very shy and morose as a filly, which only got worse after she was separated from Mahogany. After this, her parents spent most of their time consoling her.
To be continued...
Abilities
Edit
Sugar Plum
Edit
Plumsweet can use a simple creation spell to generate plums, peaches, or nectarines
Sweet Treat
Edit
She is skilled in making candy from her fruit she makes or picks.
Relationships
Edit
Lumberjack-Father
Redwood-Mother
Mahogany-Sister
"Nothing special, nothing better than anything anypony in my family has ever done..."- Upon being asked about her special talent
"I missed you so much, promise you'll always stay!"- Upon discovering Mahogany after so many years
"How do I know? How do I know you're really friends with my long-lost sister, and not just liars?"- Upon meeting Ebony and Ivory
Plumsweet's favorite fruit is actually a cherry.
She loves mosaics, and used to make them with Mahogany.
Plumsweet lives in Baltimare.
Ad blocker interference detected!
Wikia is a free-to-use site that makes money from advertising. We have a modified experience for viewers using ad blockers

Wikia is not accessible if you've made further modifications. Remove the custom ad blocker rule(s) and the page will load as expected.