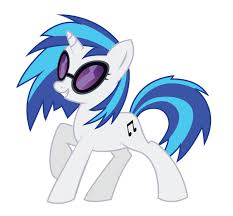 Appearance
She has pink eyes a white coat with a blue mane with lighter blue streaks. She mostly wears her sunglasses. Her cutie mark is a music note.
Relationships
Pinkie Pie - Best Friend
Octavia Melody- Rival
Career
She's a DJ.
Quotes
This is cool, man!
Got them wubs, man!
Drop that bass, dude!